Flawed Equation

Boat to Row


Crossroads EP


rcomnd by 

rcomnd
There's a certain warmth to any melody that stirs within you that nostalgic sensation, reminiscent of your teenage years, that makes you feel every that song you hear was written about you. That feeling, however, or rather a forewarning of the imminent experience of it, should be etched onto each of Birmingham five-piece Boat To Row's enchanting EPs.
Flawed Equation, from their 2010 release, Crossroads, induces more than just a sense of nostalgia too. The impossibly complex meandering finger-work of the melodies and its contrast with the raw simplicity of its lyrics will no doubt coax you down a path of youthful innocence, vulnerability, and susceptibility to love – as well as making clear that the collective are a band with one heck of a lot of spirit, and scores of stories to tell. Stories that will simultaneously break and warm a heart, if the lessons Flawed Equation teaches are to be believed, 'Lovers walk the tight rope with precision, to a string of certain misery'.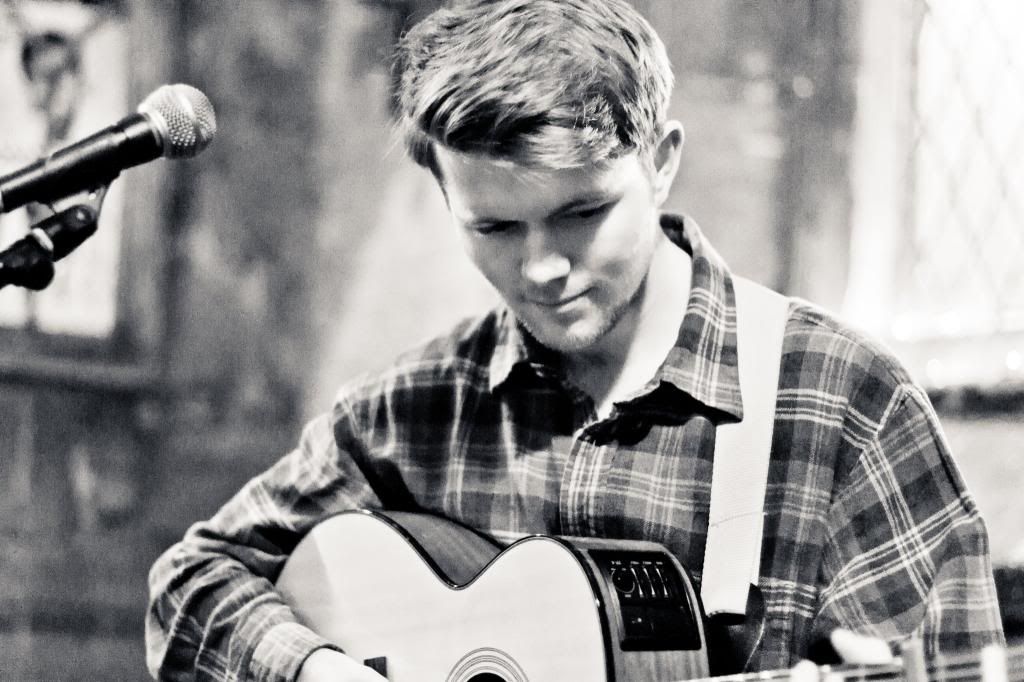 However, honing in on just one song of front man and lead lyricist Mike King's wasn't in the least bit simple. The charmingly gentle title track from their newest record, Grassmarket starts delicately and builds to something quite beautiful, and highlights just how natural, untouched and pure their sound, and the sentiment behind that sound, is.
Mike, the boy with the green eyes and the golden vocal chords, said, 'We've got a pretty organic sound. From the instruments we all play to how we all write songs. We have an acoustic feel that is made special by the fact that we all have our own input. Each of us contributes something and we all watch as a song grows'.
And it's that collaboration of tastes and influences, the meandering between thoughts and frets, that breed the fresh originality that they bring to their genre. 'I think because we play acoustically we do sometimes get thrown into a category. I'm a huge fan of folk, but I wouldn't say that folk is all that we are. It does influence us of course, but we are influenced by all sorts of eclectic things. The band is a mixing pot of sounds and interpretations, full of different ideas. Those ideas may start of sounding folky and traditional, but they twist and change into something new and unique.'
But running alongside the course Boat to Row are set upon, a course wonderfully distinctive and individual, is a sense of heritage, of belonging to a community and a fondness for the traditional. From the cassette-only release of Crossroads to their consistent vinyl releases, there is something very past about this band's obviously promising future.'I've always collected something, ever since I was a kid, I used to collect Star Wars things, then it was Airfix Models, and now I collect records. I just love to have my music in the physical form. The sound they make, the feel of them, the way they look – the design and artwork – to be able to make music in that way is a dream come true. We've made a piece of history that will always be there even when the band fades and I'm an old man.'
Like Boat to Row? Their fourth EP Loyal Light is available from 19 November on istartedthefire Records.
2 Notes/ Hide
bearingmypoordiction likes this
sisterswallow reblogged this from rcomnd
rcomnd posted this